Jamie Collins, RDH
Jamie has been in the dental field for nearly 20 years, both as an assistant and hygienist. In addition to clinical practice, she is also an educator, speaker, and has contributed to multiple textbooks and curriculum development in addition to being a frequently published author.
As a left-handed hygienist, finding an ergonomic operatory setup is about as easy as finding a unicorn.

While dental ergonomics are improving for both righties and lefties, anywhere from 60-92% of dental workers have at some point been affected by a musculoskeletal disorder.

With so many dental professionals feeling the aches and pains of the job, we have to find ways to preserve our bodies without compromising care. Thankfully there are some fairly simple ergonomic investments we can make now to help reduce our long-term health risks down the road.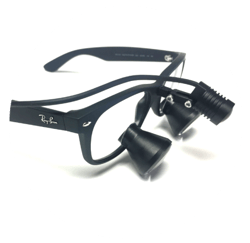 Lighted Loupes
What a difference the light makes in so many instances! No longer are you reaching over your head adjusting a light trying to increase visibility. The light is on your glasses follows everywhere you look.

Loupes reduce the need to slump over to see the back of the oral cavity, keeping you at a safe working distance where neck strain is reduced. Not to mention, the ability to magnify your work space helps ensure you aren't missing calculus while scaling, which helps reduce eye strain.
My lighted loupes are one thing I will not practice without.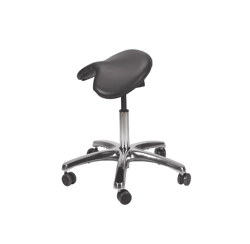 Saddle Stool
Good seating that fits your body is key to reducing aches and pains in the back and hips. I switched to a saddle stool after my "hygiene hip" started bothering me on a daily basis.

For many years I was able to work full-time without any hip pain, which I widely credited to a good quality saddle stool. Then we moved due to a relocation for my husband's job and, looking back, I should have taken custody of the saddle stool from my previous office.

The new office had chairs from sometime in the 1990s that were terrible on my back and hips, and I only worked two days a week at this point. I was at the point that I could hardly move at the end of the day.

I realized how important it was to invest in myself to prolong a career that is often hard on the body. Unfortunately, the doctor didn't see any need to purchase new seating, so I decided to purchase a saddle stool myself, and oh the difference it made.


Sharp Instruments
You are only as good as the tools at your disposal. No matter how great of a clinician you are, if your instruments are not sharp, you're causing yourself extra scaling stokes, making it harder on your hands and wrists.

Either sharpen often to maintain the edge or invest in sharpen-free instruments such as the American Eagle XP Sharpen-Free line that doesn't need sharpening. Your hands will thank you. Fewer strokes mean less stress on your body, and it's also more efficient for your patients.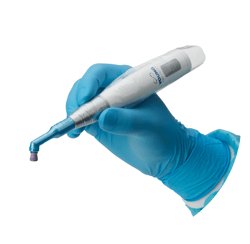 Cut the Cord Drag
And here is where my fellow lefties can relate: try bringing a handpiece or ultrasonic cord around to the other side of the chair without hitting the patient in the head. Go ahead. I'll wait.

Ergonomically, cord drag on the hands and wrist is one the hardest things to overcome. But there are a few workarounds, such as CordEze, a silicone bracelet that holds your ultrasonic cord. This bracelet helps take the pressure off the wrist and is gaining popularity among hygienists.

When it comes to ergonomics, one of the biggest limb-savers is a cordless handpiece. I've used one for years and recently changed over to the Infinity cordless handpiece by Young.

Having cut the cord, I'm able to treat patients in an alternative setting, or treat patients who are not able to transfer from their wheelchair. In those instances, I wouldn't have been able to polish with a traditional corded handpiece because it simply wouldn't have reached the patient.

When considering a cordless handpiece, look for something lightweight and well-balanced. Be aware that certain cordless handpieces require you to use a specific prophy angle; I prefer those that allow me to use any prophy angle, which comes in handy when temping at other offices.

And, as a left-handed hygienist, I no longer have to worry about what side the handpiece is on or if the cord is long enough to adapt over to my side of the chair.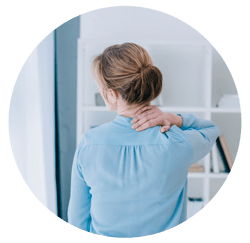 Take Care Outside the Op
One of the biggest factors in ergonomic safety is self-care. Leaning, twisting and contorting at unnatural angles wreak havoc on our bodies over time.

The time and expense of a massage once a month is a small price to pay for feeling healthy, maintaining your body and prolonging your career. Same goes for seeing a chiropractor or getting a gym membership – do whatever you need to ease the tension of the job.

I turned to yoga to help stretch and strengthen, and in the process it offers a little time for stress relief. I've also found that a monthly massage does wonders for the body, and provides a little "me" time.

Dentistry is a career that takes a toll on the body, but is so rewarding in so many other ways.

Even if your employer doesn't provide the latest and greatest products, it's important to find ways to invest in your ergonomic safety now so you don't have to deal with missed work days, musculoskeletal disorders and medical treatments later.