Madame Fulcrum
Madame Fulcrum is known worldwide as a leading dental astrological expert with an unprecedented accuracy rate of 99.7%.
Horoscopes for hygienists who don't believe in horoscopes.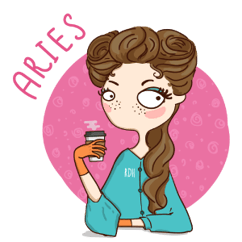 Aries
March 21 – April 19
Opportunities will come to you when you aren't afraid to push boundaries. You could convince your office to throw in a stipend for scrubs, or champion an effort to switch your office from fluoride foams to varnish. Aries Hygienist, is there anything you can't do this month? Or really any month, for that matter?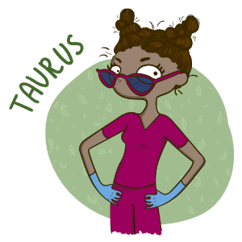 Taurus
April 20 – May 20
Being a little more spontaneous pays off for you this month, Taurus Hygienist. Shake up your daily routine by incorporating some new methods, such as polishing before hand-scaling to remove less-accessible stains. BAM – you're now the office trendsetter.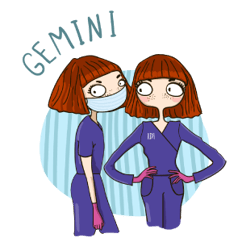 Gemini
May 21 – June 20
It's October and Halloween is upon us, which is of course exciting for everyone. But maybe you should lay off the Friday the 13th marathons. Just because you're crafty enough to make a dental mask look like a hockey mask doesn't mean you should.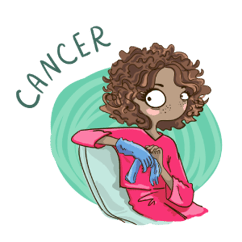 Cancer
June 21 – July 22
You have a mental arsenal like no other, Cancer Hygienist. It's amazing what information you're capable of storing, right down to the very last detail. You impress patients by remembering their birthdays, what grade their kids are in or their dog's name. Most people can't even remember to floss so please do humanity a favor and tell us your secret.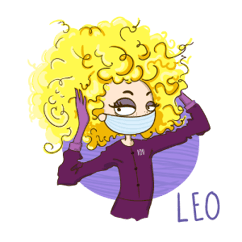 Leo
July 23 – August 22
This is a great month for you, Leo Hygienist. You may feel like you can exercise more of your freedom. Break any shackles that seem to be holding you back. There's no reason to feel hindered … unless you spend your days adhering to a strict schedule that can go off track at any moment for literally any reason.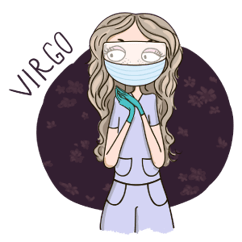 Virgo
August 23 – September 22
No one's as passionate about infection control as you, Virgo Hygienist. Part of that passion is helping others see the benefits of highly regimented infection control procedures. While yelling "STOP WHAT YOU'RE DOING OR WE'LL ALL GET TB" may be effective, this month opt for a gentler approach.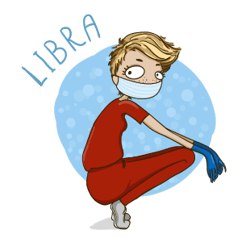 Libra
September 23 – October 22
Friendships go surprisingly well for you now, and making new friends is particularly favored. You might even meet a kindred spirit who doesn't think it's weird that you describe what people's mouths look like instead of remembering their names.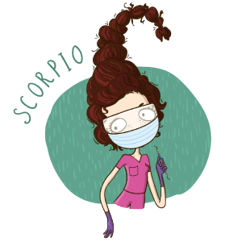 Scorpio
October 23 – November 21
Financial gain may come in odd shapes and sizes this month. You could find a piece of calculus shaped like an actual tooth, which leads you to discover that there's a market on eBay for weirdly shaped calculus. And just like that, you'll turn that calcium phosphate mineral salt deposit into a bank deposit. What a time to be alive!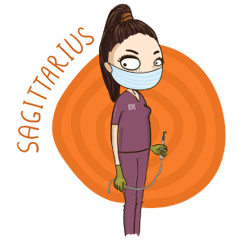 Sagittarius
November 22 – December 21
You're in for some welcome news on the professional front this month, Sagittarius Hygienist. One of your more difficult cases could start to show major improvement, all thanks to you! Doesn't that feel good? Savor this moment because there's a chatty anti-recliner in the waiting room. Good luck.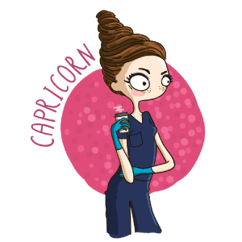 Capricorn
December 22 – January 19
It's the spookiest time of the year, Capricorn Hygienist, and nothing is scarier than a patient-turned-dental-expert who has a degree in Google searching. It might even be frightening enough to inspire your Halloween costume this year.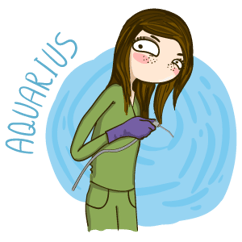 Aquarius
January 20 – February 18
This is a great planetary alignment to start thinking about getting ahead, Aquarius Hygienist. You'll immediately fall behind again, but at least you got to think about it for a minute.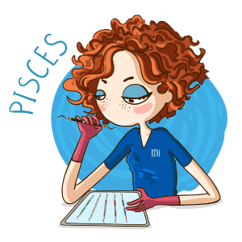 Pisces
February 19 – March 20
There are people who want to get closer to you, but they might feel too intimidated to do so. Probably because you silently maintain eye contact with people while sharpening your instruments and it's … intimidating.