Jamie Collins, RDH
Jamie has been in the dental field for nearly 20 years, both as an assistant and hygienist. In addition to clinical practice, she is also an educator, speaker, and has contributed to multiple textbooks and curriculum development in addition to being a frequently published author.
Anyone remember that 1980s anti-drug campaign? You know, the one with the egg and the frying pan?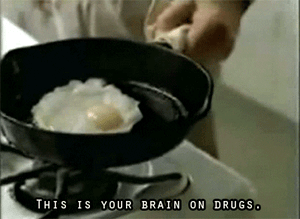 Maybe it's not the best metaphor when it comes to vaping. But it makes you think – if vaping did have its own 1980s-esque campaign, what would it look like?

Instead of cracking and frying that egg, you might cover it in glue and roll it across a high-traffic rug (to represent increased microbial adhesion to your teeth). Or you might let the egg sit unrefrigerated long enough for it to start smelling (to represent the link between vaping and halitosis).

OK, so these metaphors aren't quite as effective as the frying pan, but maybe you get the idea. Vaping has exploded in popularity over the last several years, and it's clear that health and government officials alike are still grappling to understand its potential health implications, including its effect on the oral cavity.

A Little Background
The US is leading the global market when it comes to e-cigarette sales. As of 2018, e-cigarettes were a nearly $12 billion industry that's only expected to grow – a trend that concerns many health officials, especially amid recent headlines.

As of Jan. 21, 2020, more than 2,700 confirmed cases of lung injury and more than 60 deaths have been reported as a direct result of vaping products. The Centers for Disease Control and Prevention calls this vaping lung outbreak EVALI (e-cigarette, or vaping, product use-associated lung injury).

When these cases peaked in September of 2019, it captured national attention and even prompted White House officials to step in before ultimately backing off legislation aimed at banning many flavored e-cigarettes.

Since, then, cases of EVALI have been gradually declining and have all but disappeared from headlines. But if all these cases of lung injury and death have told us anything, it's that we still don't know much about what vaping is capable of doing to our bodies.

Cue the Dental Professionals
What's not a mystery is how e-cigarette vapors enter the body: through the oral cavity. So for oral healthcare professionals, understanding the signs and risks of vaping is critically important.

Did you know that vaping increases the risk of periodontal disease and can affect the periodontal ligament fibroblast, which can impede the regenerative potential? Or that the inhaled vapors that cross the oral cavity on the way to the lungs increase microbial adhesion four-fold compared to those who do not use e-cigarette products?
[DOWNLOAD] Click here to download our free printable infographic: Vaping and your mouth

Clinically, you may see patients who exhibit signs of burns, irritation and stomatitis, which isn't surprising when you find out that vaping devices heat liquids up to 390-490 degrees to create a vapor. Patients may complain of a burning tongue or altered taste when they present concerns in your chair. If you don't know they're using vaping products, you may not realize it could be habit-related.

Xerostomia and halitosis can go hand-in-hand in many scenarios, with vaping being a common factor. The lack of saliva to wash away bacteria contributes to halitosis for many individuals, especially if the patient has risk factors such as polypharmacy or other disorders.

The Vaping Conversation
You might hear a patient ask, "How did I get cavities now?"

No changes in eating, liquid sugar consumption or daily homecare habits, so what else can be the cause? The truth is, vaping products reduce enamel hardness up to 27% versus those who do not use e-cigarette products.

I often lecture on this topic, and the comments from attendees include how often they see patients who have never been caries-prone but now need to schedule multiple restorative visits. If caries weren't enough, this study revealed oral C. albicans carriage was significantly higher among cigarette, water pipe and e-cigarette users compared with never-smokers.

Unlike cigarette smokers, who you can usually easily identify in your dental chair either by stain or smell, can be incredibly difficult to identify those who vape unless you ask directly. Starting the conversation about the oral dangers of vaping is difficult but necessary for the complete health of your patients.